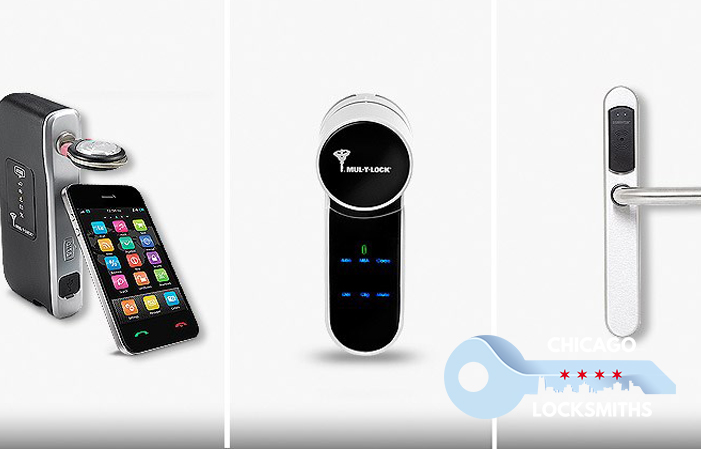 Locks serve a primary purpose of helping protect valuable possessions. From The ancient locks made of rope knots, to contemporary electronic locks, there's a plethora of lock types in both history and contemporary society. In this blog entry, I'll review some of the most widely known and popular types of locks.
Padlocks
These popular freestanding  locks were first invented in ancient Babylon and Egypt, and are greatly portable. The first modern padlock was patented by Harry Soref in 1924, after founding the Master Lock company.
Combo Padlocks
These padlocks require a specific sequence of numbers in order to unlock - they may have a single or many dials - however single dial locks are more secure than multi dial locks. This type of lock was invented by James Sargent in 1857, and updated by Linus Yale Jr., of the famous locksmith company. These locks aren't the most secure, as they can be easily picked or broken into.
Key Padlocks
These key operated locks vary wildly - some can be rekeyed, others cannot - so if you have the non rekeyable variety, and you lose the key, the shackle will have to be broken.
TSA Locks
These locks are approved by the Transportation Security Administration for luggage securing - they can only be opened by TSA employees to inspect luggage. Unfortunately, these locks are notoriously easy to pick.
Deadbolts
These ultra secure locks are often used in homes or outside doors along with a somewhat less secure lock. They are widely based off the jimmy proof lock invented to deter and prevent burglars from entering homes and offices.
Single Cylinder Deadbolts
This is the most commonly used deadbolt in homes in the USA. They can be installed with an additional flip guard which prevents the thumb turn from turning, preventing it from being able to get picked.
Double Cylinder Deadbolts
These even more secure deadbolts require a key on the inside and outside of the lock, but can be a safety hazard if there's an emergency that requires a quick exit - so they are prevented from being able to get installed in many residential situations in the USA.
Thumbturn Deadbolts
These deadbolts can lock doors from the outside and inside, and is a combination of single and double cylinder deadbolts, that has a key cylinder on one end, and a thumbturn on the other.
Jimmy Proof Deadbolts
These deadbolts are most commonly found inside homes and apartments, and are easy to install as they are surface mounted - and are much more resistant to strong force or interference than the usual deadbolt.
Knob Locks
These locks are found on doorknobs and are commonly paired with deadbolts. They are a rudimentary type of spring lock, and aren't the most secure, as they can be easily knocked off the door.
Lever Handle Locks
These locks are commonly found in businesses or institutions and are most often used in interior doors - but they are also rather insecure, as they can be somewhat easily broken off.
Mortise Cylinders and Rim Cylinders
These are a secure alternative to deadbolts, and can be found on sliding glass doors or in retail environments. The difference between mortises and rim cylinders is that the latter has an extended tailpiece that is threaded through the door into the lock, while mortise cylinders have a side-thread, and are directly attached to a mortise hardware that gets installed into the door.
Interchangeable Cores
These locks are used in institutional and large commercial settings, as they can easily allow for key changes without full deinstallation. They are operated with either standard operator keys, which can lock and unlock the lock - or control keys, that remove the main core from the lock, allowing for a replacement core to be inserted.
Cam Locks
These low security screw based locks are the type that can usually be found in mailboxes or filing cabinets - the 'cam' is the back part that operates as the latch for the screw base.
Digital Locks
These locks are operated electronically, with either a coded card that gets inserted, or the entry of a numerical pin code. The codes can be easily changed, but they can be hacked, so they aren't impervious to all burglary attempts.
Smart Locks
These locks operate in conjunction with a programmed code on one's smartphone - through an application commonly included along with the purchase of the lock itself.