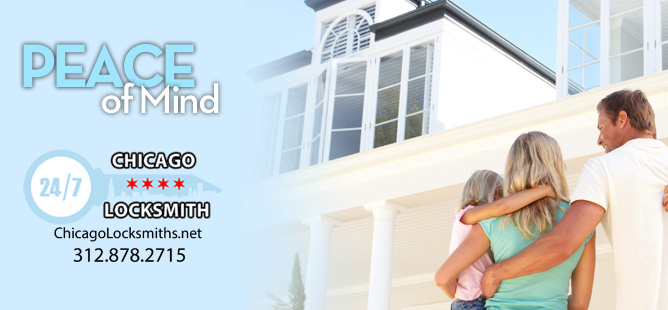 You have probably heard FBI statistics suggesting that a burglary occurs in America every 15.4 seconds. But did you know the city of Chicago recorded more than 14,500 burglaries in 2014? The burglary rate last year may have dropped 19% from the year before, but that does not mean Chicago residents can let their guards down. Each of us must remain diligent in order to protect our families and properties.
The most important thing for you to know about home burglary is that burglars want to get in and out as quietly and efficiently as possible. Anything you can do to slow them down will increase the chances of them abandoning their efforts. Let's start slowing burglars down starting with first-floor entry points.
 Doors and Locks
The easiest points of entry in any home are the front and rear doors. If you are not currently using steel or solid-core wood, the first step is to replace your doors. Don't want to do it yourself? Enlist a professional Chicago Locksmith company. The second step is to attend to your locks and strike plates. Make sure your first-floor doors are equipped with four-screw strike plates and heavy-duty deadbolt locks with 1-inch throw bolts. While you're at it, install a heavy-duty peephole that allows you to see anyone standing at your door.
Sliding glass doors and windows are also vulnerable due to inherently weak locking mechanisms installed at the factory. Block your sliding glass doors with a piece of dowel or another commercially available product. As for your windows, you can purchase very effective locks that allow them to be open a crack without compromising safety.
    Use a solid core or metal door for all entrance points
    Use a quality, heavy-duty, deadbolt lock with a one-inch throw bolt or preferably a high security locks.
    Use a quality, heavy-duty, knob-in-lock set with a dead-latch mechanism
    Use a heavy-duty, four-screw, strike plate with 3-inch screws to penetrate into a wooden door frame
    Use a wide-angle 160° peephole mounted no higher than 58 inches
 Home Safes
Since the prices of good home safes are falling, having a safe in your home is a wise investment. Home safes are designed to keep the smash and grab burglar, dishonest butler, nanny, nosey kids or housekeeper from gaining access to important documents and personal property. Home safes need to be anchored into the floor or on permanent shelving.
   Use the safe everyday so it becomes routine
   Protect the safe code and change it occasionally
   Install it away from the master bedroom or closet
 Lighting and Alarms
Lastly, consider lighting options and home security systems. Exterior lighting serves the dual purpose of allowing you to see potential threats while you're outside and illuminating your property so it can be easily observed from the street. Keep in mind that burglars don't like to be seen. They despise exterior lighting that takes away their ability to hide in the shadows.
Where alarm systems are concerned, noise is good for scaring away burglars who don't want to draw attention to themselves. Combining an alarm system with a monitoring service is even better. The two together give you the benefit of using noise as a deterrent alongside faster response times as the result of a monitoring center personnel alerting police.
Effective home security in Chicago is not a matter of dumb luck. By employing the simple strategies we have listed here, you can make your home safe.