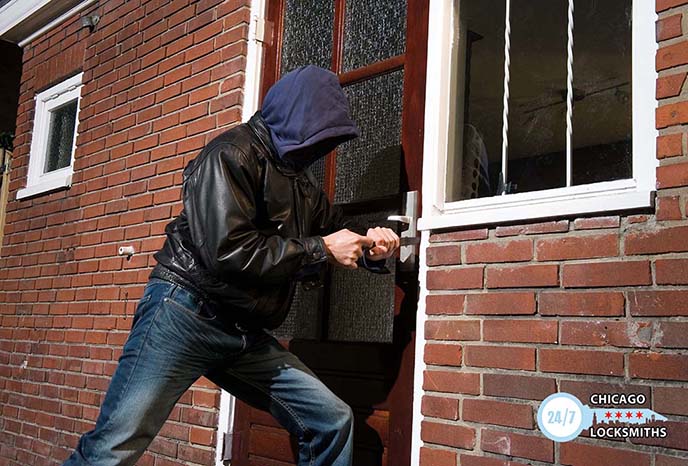 If you're at all concerned about the likelihood of a burglar breaking into your home, this article is for you. The fact is that the United States is the world's leader in burglaries - a burglary happens every 15 seconds, meaning 4 do every minute. While you're working on your home security, it's smart to think about these statistics - you might be surprised.
Front Door Vulnerability
Almost thirty-three percent of burglars illegally enter a home through it's front door. If your home has an old wood door - a hollow door of any type, you must replace it with a solid wood or metal reinforced door. Hollow doors are notoriously flimsy - any burglar with slight leg strength could kick one in. Additionally, activate your home security system each time that you enter or leave your home - and consider getting genuine, or deterrent security cameras, as well as outdoor motion lighting.
Repeat Offenses
Burglars sometimes try entering homes more than one time - think about it, they've been inside already, so they know the layout, and might have spotted areas with expensive belongings that they didn't have the time to access the first time they broke in. If you find yourself the victim of a burglary or break-in, make sure to contact a home security service as soon as possible.
Brute Strength
Almost sixty percent of home invasions are accomplished through forced entry - thirty percent of them are accomplished through simply entering an unlocked door or window, with no need for force.
It Doesn't Matter if Someone is Home
28% of burglaries occur when someone is inside the house - and unfortunately, household members experience personal violence in 7% of burglaries.
Alarm Systems are Great Deterrents
The majority of burglars attempt to figure out if a home has an attached alarm system before trying to break in - and the majority of convicted home-invaders admit to avoiding homes with visible security systems. The majority of burglars will leave the home immediately if an alarm sounds.
Wireless Benefits
Almost twenty-five percent of home invasions involve the cutting of alarm or telephone wires before the break-in is enacted. Wireless home security systems are more secure, because there's no wires that can be cut. This service is offered by many of the leading home security agencies, and won't burn a hole in your wallet.
Not many Burglaries are Solved
Only around 13% of burglaries are solved by police - with an even smaller chance of the stolen belongings being recovered or returned.
Significant Losses aren't Uncommon
In a study conducted by the Federal Bureau of Investigation, the average monetary loss suffered by households or businesses in burglaries is around 2,185 dollars - and if you factor in the police/investigation costs, it can be almost 20,000.. This amount is much more than the average cost of a home security system - which of course, also doesn't come with the emotional expense associated with a break-in. Additionally, most home insurance companies offer discounts if a home security system is installed.