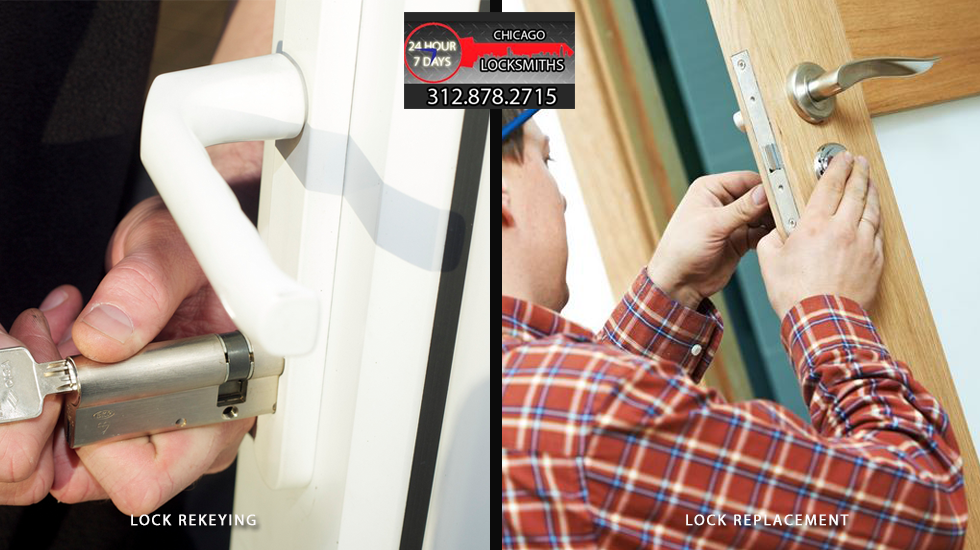 You'll usually want to rekey the locks to your home, office or car if there is a break-in, theft or act of vandalism. You may also wish to rekey your locks if you lose your keys, if you feel that too many others have copies of your keys or if you want the convenience of being able to lock and unlock your house's front and back doors with the same key. You can go to a locksmith to rekey your locks or you can do it yourself. Here are 8 steps Chicago Locksmith provides for rekeying your lock.
1. Get a rekeying kit. Also called pinning kits, rekeying kits are available at most hardware stores and home centers, as well as online.
2. Remove the exterior door knob or lock face.
3. Take out the lock cylinder. Using a cylinder follower (a small brass tube), push the cylinder through the assembly to remove the sleeve covering it and then remove the cylinder.
4. Remove the cylinder retainer ring. Use a wrench-like ring remover to remove the retaining ring from the lock cylinder. Put the retainer ring somewhere you'll find it later when reassembling the lock.
5. Take out the cylinder plug.
6. Take out the old lower lock pins. The lower lock pins are roughly bullet-shaped, with the pointed ends touching the key, and of varying lengths.
7. Insert the new lock key in the cylinder. This will push the springs out of the way and serve as a partial guide for the new lock pins.
8. Insert the new pins in the lock. The new pins should be color-coded or coded numerically to match a chart showing which pin goes where in the lock. You'll need either a tweezers or small needle-nosed pliers to grip the pins and insert them. The new pins should align with the key when it is inserted in the lock.
9. Reassemble the lock. Replace the cylinder plug and retaining ring, then replace the cylinder in the door knob or lock face and reattach it to the door. Test the rekeyed lock to make sure it locks and unlocks with the new key.
Choose to have the professionals do it - call us 312.878.2715 or visit: ChicagoLocksmiths.net