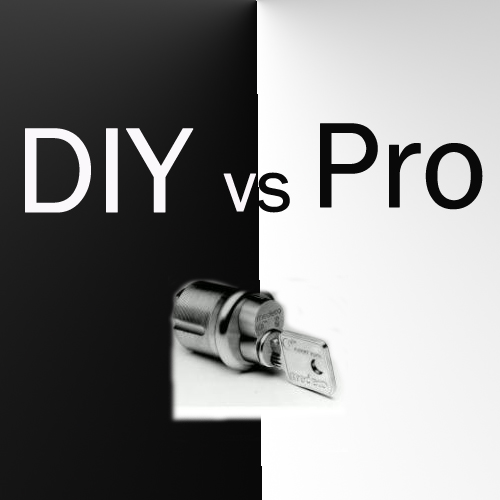 The do-it-yourself method seems like the cheaper solution at first, but it can be a costly in the end. Trying to figure out how to install or fix something is time consuming and frustrating. Even if you use an instruction manual, the wording and images can be confusing and hard to figure out. However, a professional knows exactly what to do because they are trained in the field. It is best to hire a trusted professional for the job!
One advantage of hiring a professional locksmith is the assurance of a job well done. In turn, you lower the risk of encountering problems in the future. Locksmiths are skilled and professionally trained in the repair and installation of locks as well as other security mechanisms.

Another benefit of using a professional locksmith service is that they are always available to help! If you find yourself in a lockout situation, all you have to do is call for assistance. No advanced appointment is needed! Most locksmith companies provide services 24 hours a day, every day of the week including weekends and holidays. They specialize in emergency lockout situations, so you will not be left waiting for a long period of time.

If you try to do it yourself, you may not achieve the best results in the end. For example, installing an alarm system or any other advanced security device involves a lot of wiring and precision work. If it is installed incorrectly, the system will not be secure.

Juggling a busy work schedule and taking care of your family is already time consuming. The time spent trying to figure out how to install something could be spent relaxing. There is no need to waste time you don't have when you can just hire a professional to get the job done right!

Locksmith companies usually provide services for cars, homes and commercial properties. Therefore, they can help you in a lot of different aspects.

A locksmith can answer any questions you may have and provide you with solutions. Locksmiths are well informed and educated about different security measures, how they work and of course how to install.
Hire a professional locksmith like www.ChicagoLocksmiths.net