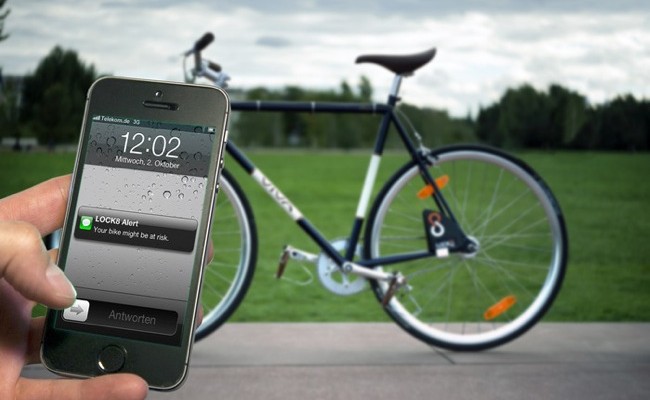 Today many people own bikes that are worth much more than vehicles in price and value. Especially, those who inhabit cities. Bicyclists use their legs to expedite journeys to work, activities and overall life events. Commodious apartments, a post right in front of the cafe, or the space by your desk are prime places to park your two-wheeler. But, when these spots are taken or inaccessible riders are susceptible to penny-farthing theft or velocipede larceny. Ouch.
BUT…
Danierl Zajarias-Fainsod and Franz Sazmann have come up with a solution gaining traction on Kickstarter. Having both had college bicycles stolen, Sazmann and Zajarias-Fainsod decided to make a move for the bicyclist well-being in 2012. The two have designed a keyless bicycle lock that has garnered publicity from news mountains like BBC and Bloomberg Buisnessweek. The commotion was about a new bicycle lock that posed a nightmare to bicycle thieves. Their lock is called the Lock8 and it's the super device of bicycle locks.
The Features
Keyless - Smartphone operable. The e-key is on the rise; but, if the smartphone dies a key fob will grant users access to their bicycles. So, you can eliminate having a heavy bicycle lock and carrying a physical key with you again! You don't have to worry about losing your keys and not having an extra copy because it's right on your phone!
Integrated GPS -If your bicycle was misplaced or stolen, you'll be able to track the device at all times. The GSM chip connects your bicycle to the internet for real-time relocation information.
Alarm - Lock8 has a variety of protection utilities. The device sports a motion sensor and gyro-accelerometer, but also a temperature sensor which trigger a "painfully loud" alarm when tampered with. All send you push notifications to alert you of this activity.
Induction Charged - Lock8 has no batteries that need to be replaced. Induction is harvested while cycling. Each time the bicycle is put in motion the charge begins accumulating life.
Rent and Share - Lock8 is making a push to be the Uber of bicycle use. With the Lock8 one can share their bicycle with anyone they desire by mobile touch, and profit from the transaction if they want to. Brilliant.
The Rise of Bike Share
The rise of bike share has spread from city to city. But let us be frank, their bikes are hideous, clunky and feel like a government permission. Not to mention the bicycle docks are always in cruddy areas. In 2014 Danierl Zajarias-Fainsod and Franz Sazmann plan to launch their brand in Great Britain and the United States. If you want a smartphone bicycle application that sends you push notifications when your bike is being tampered with, invest in one of these locks. Another incentive to invest is that there is no bicycle subscription! If you decide to rent your bicycle out the cost is a paltry $2 a month. That means that in time your bicycle will pay for the lemon. Until then keep tabs on your two-wheeler.