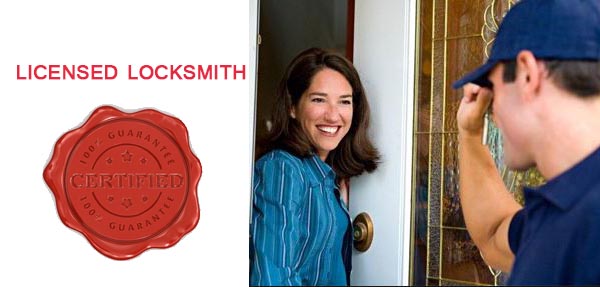 Locksmiths are a dime a dozen in Chicago. So how exactly are you to know who is running a legitimate and who is just trying to make some money? It can be hard, especially if you don't know what questions to ask or the company is being uncooperative. Still, there are hints and clues you can find to know whether or not the locksmith you are choosing is doing honest business.
What's Your Name?
Be wary when locksmiths don't have names. Illegitimate locksmiths might work under a number of different names to avoid getting caught. If you call the number and they answer with the generic "locksmith services", ask the company for their legal name. Also look for their name on their advertisements. Notice if the ad looks similar to another with a different name. This could be indication that it is the same company operating under different titles. Also, when they arrive, study their car. While some locksmiths do use their own cars for small and quick project, it usually doesn't happen. Instead, locksmiths drive vehicles with their business clearly marked on it. It might just be lettering on the side of the car or it might be an the entire van. Either way there is usually something that identifies them.
Licensed?
Ask them for their license and identification. In the city of Chicago, the government requires all locksmiths to be licensed with the state. This makes it easier for you as a customer. A legitimate company will provide you with their license number when you ask. Just plug the number into the state site and you can find out if the company is above board in a matter of seconds. Also, when the locksmiths arrives to help you, they should ask you for identification to make sure you have the authority to request the door open.
Estimate
Always get an estimate. A real locksmith will give a price range and he won't stray from it. Ask for an invoice as well. Make sure any additional fee is itemized on the invoice including surcharges and mileage charges, etc. This invoice should include the name and address of the business. It's easier to dispute the charge when you have physical evidence of the exchange.
Insurance
Insurance is important. Legitimate locksmiths are all insured just in case. That way, if they damage your property the insurance will cover your losses.
Paying
If possible, you should pay for your service by credit card. Nowadays, almost all cards have built-in fraud protection. This means if the company is not legitimate and the card senses it will halt the transaction and you won't lose the money.
Keep Them
Once you manage to find a legitimate locksmith, keep their number in your phone or their card in your wallet. You never know when you need them again. It's better to have locksmith you can trust in an emergency rather than fumbling on your phone trying to determine which website is trustworthy while you're locked out in the freezing cold.